CARLY MARIE SANCHEZ
ARTISTIC DIRECTOR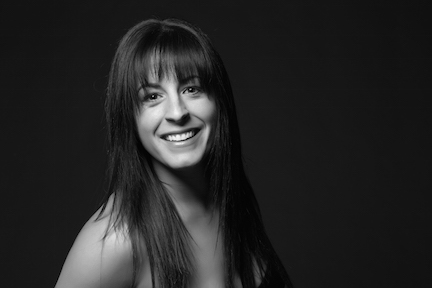 Carly Marie Sanchez has been dancing competitively since the age of three. She grew up in Garden City, Kansas and then moved to Orange, California at the age of 19 to further her studies and explore the world of commercial dance. She received her Bachelor's Degree in Dance and Psychology from Chapman University in 2009. While in California she was a member of Team Shaka, a hip-hop crew comprised of well-known members such as Chuck Maa and Robert Tsai from Instant Noodles crew, Ade Obayami, and Stephen "Twitch" Boss. Her peers recognized her for her creative, innovative, and unique choreography in both hip-hop and contemporary jazz, and in doing so she was awarded the chance to create a modern stage piece in which Ade Obayami was cast as her lead male dancer along with other incredible artists such as Jamie Donovan (who can be seen in Robin Thicke's video "Feel Good") and Skye Stoury (former member of the Vancouver Stealth Bombshells). During this time she also taught at multiple studios throughout Orange County and was the lead choreographer for Dance Works hip-hop and lyrical competitive teams. Carly then decided to pursue her career as a professional dance instructor/choreographer in Denver and has since taught at an array of studios in the Denver metro area, choreographed for productions by the City of Aurora including "Fairytales from Around the World", and their reproduction of "The Nutcracker", and is now the proud owner and artistic director of Mercury Academy of Dance. Her ultimate goal is to grow the studio and eventually create a sister performance company comprised of professional dancers and students who graduate from MAD.
---
HANNAH PRUDHOMME
DANCE INSTRUCTOR
Hannah started dancing at age 12 at the local studio, The Turning Pointe Dance Academy, in Elizabeth, CO. There, she trained in many dance styles as well as competing & winning many overall awards at national competitions.
 After moving to the Denver area she was invited to be a member of Cleo Parker Robinson Dance second company, Cleo II. She received first-class training and performed professionally as a member of Cleo II for 4 years.
 She currently dances professionally as a member of Reformation Dance Company, a contemporary ballet company as well as with Davis Contemporary Dance Company.
 She has been teaching for many years and has been an instructor with Mercury since 2017. She specializes in teaching Ballet & Lyrical, and has experience teaching Modern & Jazz as well.
 She is always happy to be able to share her love of dance. Whether performing on stage or through teaching the next generation of performing artists!
---
KATELIN WALLACE
DANCE INSTRUCTOR
Katelin was born in Texas but moved to Denver at age nine where she soon began dance training at the age of eleven. She started her training with Metropolitan Academy of Dance and then worked for six years with Denver Academy of Ballet. In past summers she has had the opportunity to train with renowned companies including American Ballet Theater, Ballet Austin, University of North Carolina School of the Arts, and Alonzo King LINES Ballet. Through these many training opportunities, she has been able to enrich herself in the art of dance and her passion for it is endless. She feels incredibly honored and humbled to now be working with such talented individuals and is ecstatic to learn from them and continue to share her passion for the art form.
---
LINDSEY BERGSTROM
DANCE INSTRUCTOR
Lindsey Bergstrom was born and raised in Aurora, Colorado. She started dancing when she was only two years old and hasn't stopped since. For 13 years, Lindsey danced with Aurora Dance Arts. It was there that she was a member of the performing team. She has performed in many dance performances such as The Nutcracker, The Wizard of Oz, and Fairy Tales Around the World. In high school, Lindsey was also a member of the Grandview Poms Team where she fell in love with the competition side of dance. Her poms' team took 2nd place in the State Competition in 2011. In 2019 she trained at the Dance Teacher Summit in LA and learned from prestigious instructors such as Kenny Wormald, Chloe Arnold, Misha Gabriel, Julie Kay Stallcup, Nika Kljun and more. Lindsey is passionate in teaching Jazz, Poms, and Tap here at Mercury and specializes in teaching our mini students. As Mercury's tap instructor she continues her tap education weekly with industry professionals. She has now been with Mercury for six years and enjoys being able to teach students what she has learned over the years!
---
ELLA DICOLA
DANCE INSTRUCTOR
Ella DiCola began dancing at age 4 at local studios such as Colorado School of Dance and Rhapsody Dance. She has trained in various styles: Including, Hip-Hop, Contemporary, Lyrical, Tap, Jazz, and Ballet. Her competitive dance journey began at age 12, and has led her to wonderful opportunities in the dance world such as training with renowned artists including Misha Gabriel, Kirsten Stewart, Nick Lazzarini, Katy Spreadbury, and Kevin Maher. Her competitive dance career gifted her with various awards such as Spotlight Overall Division Winner of 2018 and a Hip-Hop scholarship from Misha Gabriel at the 2019 Jump Dance Convention. Not only does Ella have achievements in the competitive world, but also in the studio world. Ella portrayed the role of the Grinch in How the Grinch Stole Christmas, and was also a lead role in Candyland. She is beyond excited to further her dance career at Mercury.
---